By Jacqueline GaNun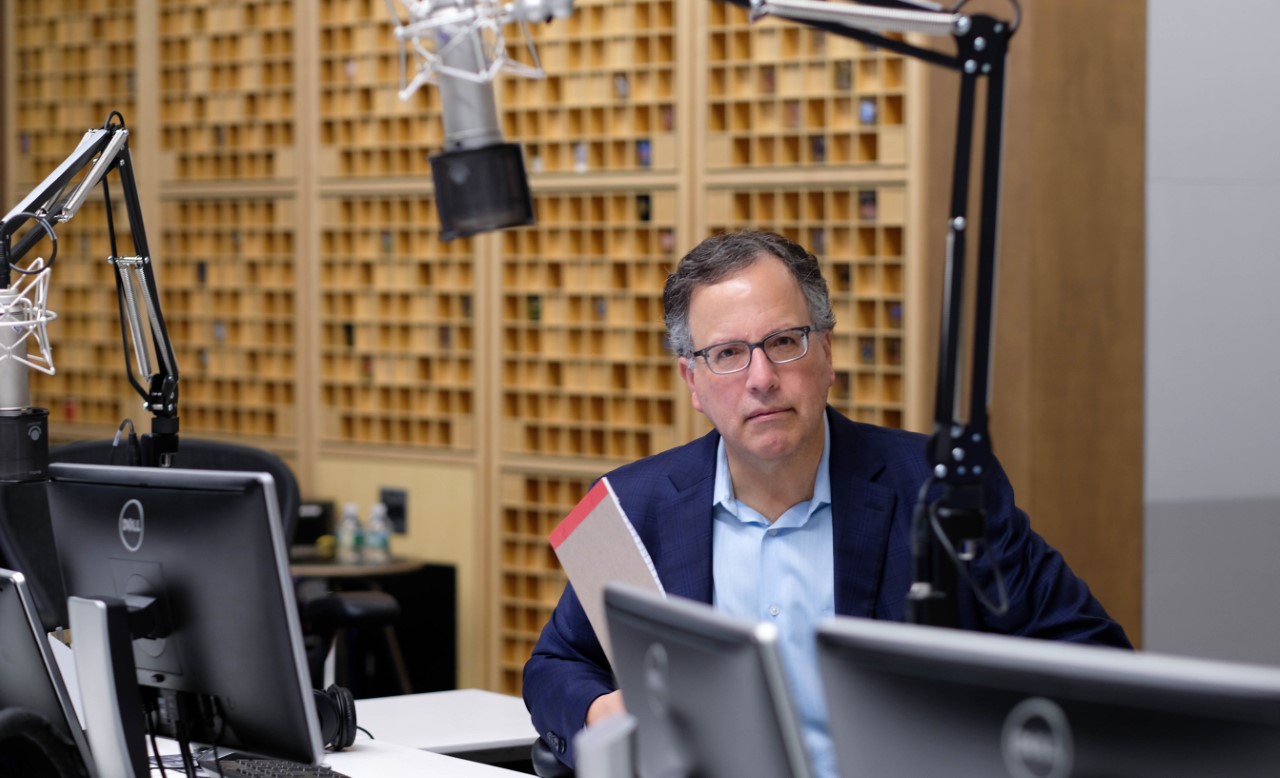 Reporter Joe Shapiro got a tip in the late 1980s that a group of politicians was meeting to draft legislation classifying disability as a civil rights matter. It was a radical idea at the time. Shapiro — then a reporter at U.S. News & World Report — covered the meeting, which ended up producing the first draft of what became the Americans with Disabilities Act. The act passed in 1990.
His editors wouldn't publish that first story because disability as a civil rights movement was too strange to them. Shapiro eventually sold it to the Washington Post. And in the more than 20 years since, Shapiro — now a correspondent on NPR's investigations desk — has continued to write stories about disability.
"I just started then talking to people in the disability community and listened to them," Shapiro said. "It was a real civil rights movement. It wasn't being covered by other people, which made it interesting to me, that it was something that I could write original stories about."
Shapiro's work has spanned states, including Georgia, and contributed to legislative change delegating more federal money to home- and community-based care programs for people with disabilities. He even wrote a book about it called "No Pity: People with Disabilities Forging a New Civil Rights Movement."
He offered advice for how to write about disability and its intersection with poverty.
Tip #1: Recognize that disability stories are on every beat
More news organizations are hiring reporters to write about disability as a beat, and while Shapiro said he supports that development, you don't need to be a disability beat writer to produce compelling narratives.
"Disability comes up in everything, from arts to sports to housing and poverty, education," Shapiro said.
He said he often starts reporting stories that aren't directly focused on disability only to find that it's an important aspect for listeners and readers. In researching a piece about foster care, he found kids with disabilities weren't receiving the Social Security checks they were entitled to. During the COVID-19 pandemic, Shapiro discovered people who are disabled were being denied care.
Tip #2: Talk to people who have disabilities
Interviewing and listening to people with disabilities is crucial for truthful storytelling, Shapiro said. Don't just talk to advocates, academics and parents.
"The bottom line is don't be afraid to interview people with disabilities. Don't be afraid to do those stories," Shapiro said. "People with disabilities … want their voices heard. Too often those are voices that get excluded."
Many people with disabilities have people talk to them loudly and slowly or like they're speaking with a child. Shapiro said it's important to interview them in the same way you'd talk to someone without a disability.
"My basic rule is to treat them the way I'd treat anyone else I interview. With the same respect, the same attention, the same assumption they have something to say," Shapiro said.
Shapiro works in audio, so he's constantly listening for tape quality. If he has to ask someone to repeat what they said if it isn't clear, he makes sure they know he often has to ask that, so they're not embarrassed. He also doesn't try to edit the way people talk.
"If I interview someone who, say, stutters, I wouldn't cut out the stutter. That's how they talk," Shapiro said. "Or if I interview someone who types on a computer that speaks for them, I want to record the sound of the typing."
If Shapiro doesn't know something, he asks — whether it's about a possible accommodation someone may need or how they prefer to describe themselves.
"It's a matter of respect," he said.
Tip #3: Look at programs that promise to help people with disabilities
Programs at the local, state and federal level are meant to help people with disabilities. In Georgia, Money Follows the Person aims to help people leave in-patient facilities like nursing facilities, hospitals and intermediate care facilities and return to their homes and communities. Another Georgia program, New Options Waiver and Comprehensive Supports Waiver Programs, has a 7,000-person waiting list for care.
At the federal level, the Supplemental Security Income program pays benefits to people with disabilities.
Shapiro said analyzing these programs is crucial for writing about disability and can also generate story ideas. Ask, who is this system meant to help? And are they being helped or not?
"Look at when they work and how they should work," Shapiro said. "But also look at how they fail and why they fail."
Tip #4: Focus on systems and their impact
Disability has historically been written about to make the audience feel good about people with disabilities "overcoming obstacles" and not focusing on the systems that make it harder for them to live. (Covering Poverty has a guide for avoiding "inspiration porn" stories.)
Shapiro used as an example the burdens that come from trying to access programs meant to help people with disabilities. Most applicants for federal disability benefits are rejected for not meeting the program's strict financial and medical requirements, according to the Center on Budget and Policy Priorities.
"There's always this assumption that somebody who tries to get this money is somehow scamming the system, so there are all these safeguards that make it really hard to get," Shapiro said. "And they end up hurting people with disabilities and they hurt our communities."
A big-picture view of how systems interact is also crucial for reporting on the links between disability and poverty, Shapiro said. People with disabilities are more than twice as likely to live in poverty than people without disabilities, according to the National Council on Disability.
"It deeply is an issue of poverty, because people do rely on these programs that often don't work," Shapiro said. "And then the question is, why don't they work?"
Tip #5: Don't be afraid to write about disability
Shapiro said he thinks journalists tend to be afraid to write about disability because it is a complicated and often deeply personal issue.
"Reporters don't want to insult the person that they're reporting on," Shapiro said.
There are debates about language — for example, some people prefer person-first language, such as "a person with autism," while others prefer the identity-first "autistic person." Shapiro said journalists should ask people what they prefer.
NPR Training has a video (featuring Shapiro) that offers guidance on reporting stories about disability. There are also resources that keep up with evolving language and give reporters tips on how to cover people with disabilities in a respectful and inclusive way. Covering Poverty's disability beat guide includes datasets, language guides and information about the nuances of disability and poverty.
The AP Stylebook also has guidance on writing about disability.
Shapiro said reporters need to treat people with disabilities with respect. If you don't know something, ask.
"Don't worry so much about doing it right that you don't do it at all," Shapiro said.
Jacqueline GaNun is a fourth-year journalism major at the University of Georgia.
Note: This story was published with grant funding from the UGA Institute on Human Development and Disability.