By Isabelle Atkins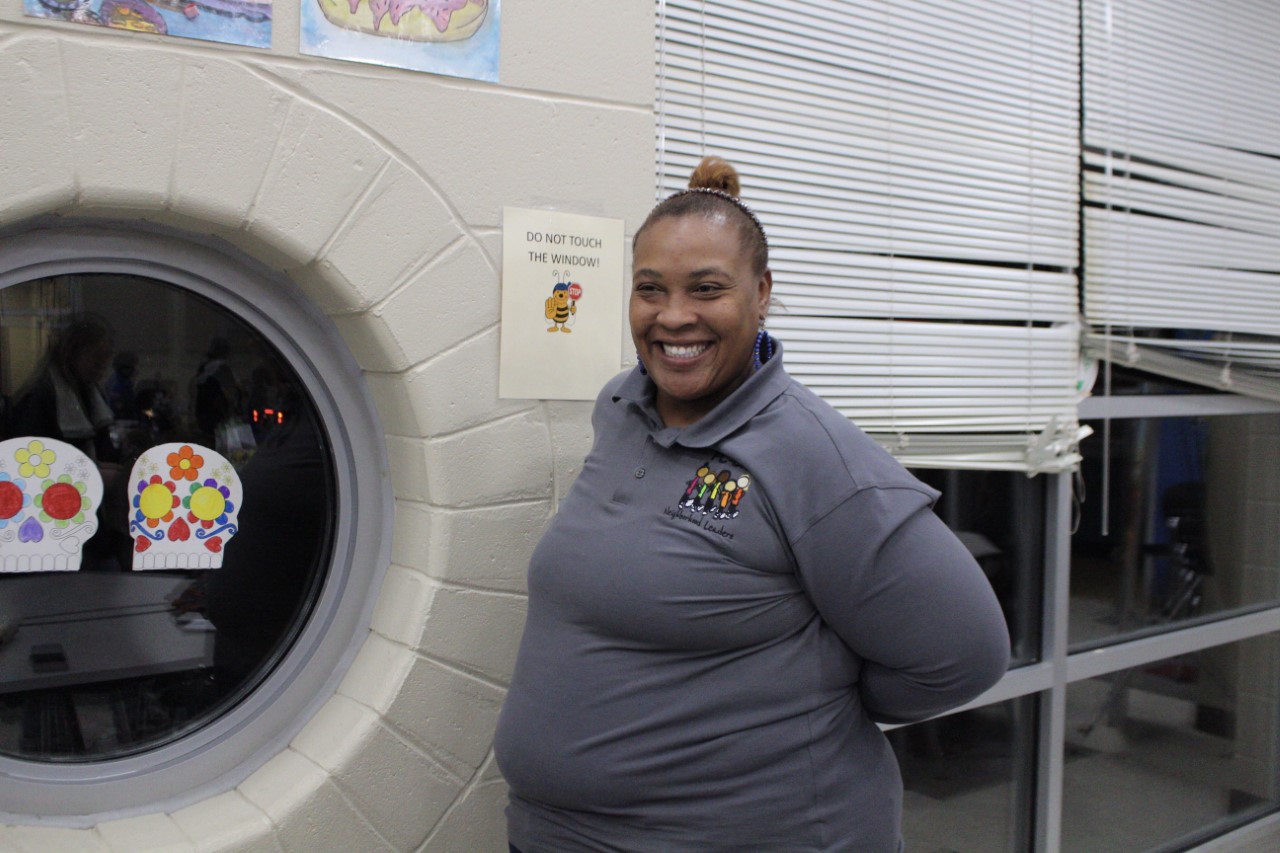 Shawanda Johnson gives out free fresh produce to families at Winterville Elementary School's fall festival (Photo/ Isabelle Atkins)
Bags of peas, cabbage, grapes, strawberries and mushrooms rustle in the trunk as Shawanda Johnson backs her car into her first driveway of the day. She honks her horn twice before turning off the engine and making her way to the back of the car. As a young woman emerges from the house, Johnson pops open the trunk to display the large boxes full of free produce.
"Take as much as you'd like, honey!" Johnson said.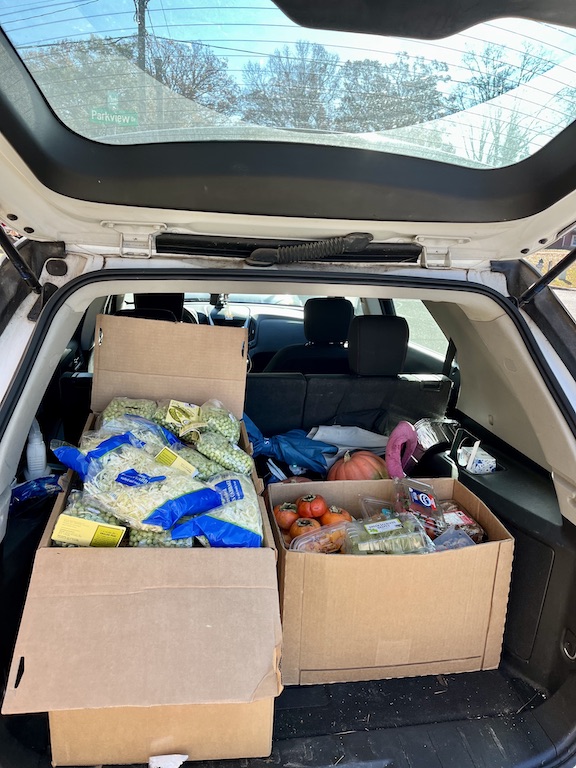 In her role as Winterville's Neighborhood Leader through Family Connection-Communities in Schools of Athens, Johnson has the ability to serve her community in a way she has always felt called to do.
Shawanda Johnson's car is often filled with boxes of fresh produce that she offers to the Winterville community. (Photo/ Isabelle Atkins)
Winterville is in Athens-Clarke County, where more than a quarter of residents are living in poverty, which is more than double the national average. While about 16% of households in ACC receive food stamps, access to a grocery store in Winterville is limited. There is no bus line, nor is there a grocery store within walking distance. For residents who do not have a car, this makes it nearly impossible to get fresh produce.
Originally from Chicago, Johnson was raised in a church where her mother always forced her to volunteer. At the time, she did not understand why she always had to help host dinners at the church and organize food donations. Now, she lives her life echoing the principles her mother instilled in her.
As an adult in Chicago, Johnson ran a 24/7 childcare center for the state of Illinois. She said it was there that she began to notice families leaning on childcare for meals, and how much of an added stress food was for them. She now uses her own lived experiences to empathize with the people she helps.
"I'll be like 'Girl, don't be ashamed because we all need help,'" Johnson said. "I've been homeless, I've been without electricity, I've been without food, so I know how it feels and I definitely don't want anybody, especially kids, to have to go through that."
Finding her calling
When Johnson moved to Georgia in 2012, she started attending meetings held by FC-CIS in her neighborhood and realized feeding people is her calling.
In 2020, FC-CIS received grant money and Johnson was able to make helping others her full-time job as a FC-CIS Neighborhood Leader.
Shawanda Johnson stands outside of her office, which used to be a bank. She stores the food and supplies that she provides to her community in this building. (Photo/ Isabelle Atkins)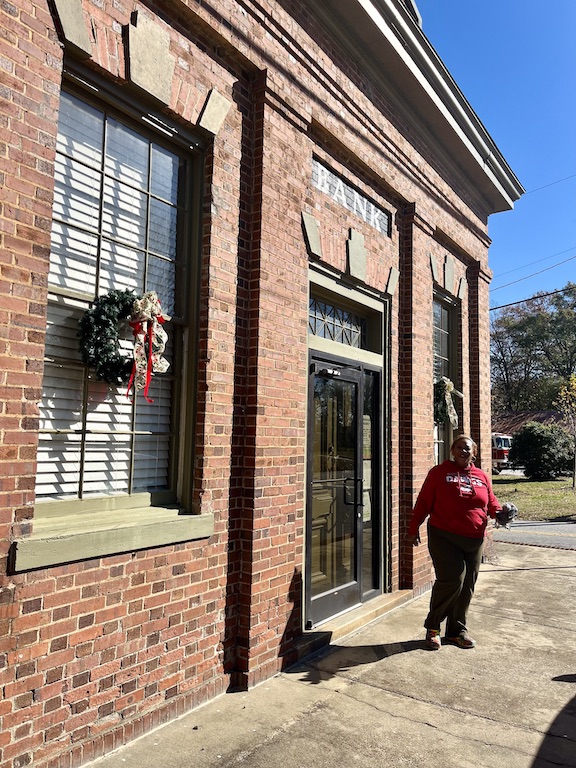 The Neighborhood Leaders initiative is made up of 16 individuals in different zones across Athens-Clarke County. They aid their community through group outreach, community building and individual case management support.
Johnson's role includes everything from delivering food and supplies to helping fill out job applications.
LaTasha Sheats, who covers the Whit Davis zone for Neighborhood Leaders, described food and cooking as Johnson's "love languages." Outside of Neighborhood Leaders, Johnson has her own meal prep and lunch service business called Shawanda's Kitchen, where she provides cooking lessons, meal prep, taste tests and small camps on how to be healthier.
One of Johnson's most rewarding memories is taking care of a group of grandmothers who, because they are busy taking care of children, rarely get to go to the store. One grandmother of four was taking blood pressure medicine because her diet consisted largely of crackers, hotdogs and Cheetos. Once Johnson was able to get the grandmother nutritious food, she was able to get off the blood pressure medicine.

Building community and gaining trust
Johnson said the most difficult part of what she does is getting people to trust her. She said that many people approach these communities and make promises, conduct surveys and get information, but don't come back to the neighborhoods to actually do what they said they were going to do. But through Johnson's work for over 11 years, she said everybody knows her car and that when they see it, they know she has food in her trunk to give away.
Her favorite way to get people's attention is simply by word of mouth, as many people who need her help do not have phones.
"I see people walking down the street, and I just roll down my window and be like, 'Hey you need some food? Hey, you need some Pampers … Here's my card! Come by and see me!' That's how I get my people. I just holler out the window," Johnson said.
Yet, there are still families who do not want to admit to needing help.
If there is a family that Johnson knows might be "prideful," she said she will package food, clothes or Pampers in gift bags that she has collected to give away so that it looks like it is someone's birthday.
Often she will wait at school bus stops and give granola bars out to children and tell them to get the food back to their parents, too.
"You get it to the kids, you get it to the parents. I definitely make a lot of connections through the kids," Johnson said.
Johnson said she is thankful for the tight-knit community that is always there to help her help others. She explained how it is not just homeless or jobless people that need her help, but even people living in big houses.

"Everybody needs some help, and it is nothing to be ashamed of," she said.