By Phoebe Lyons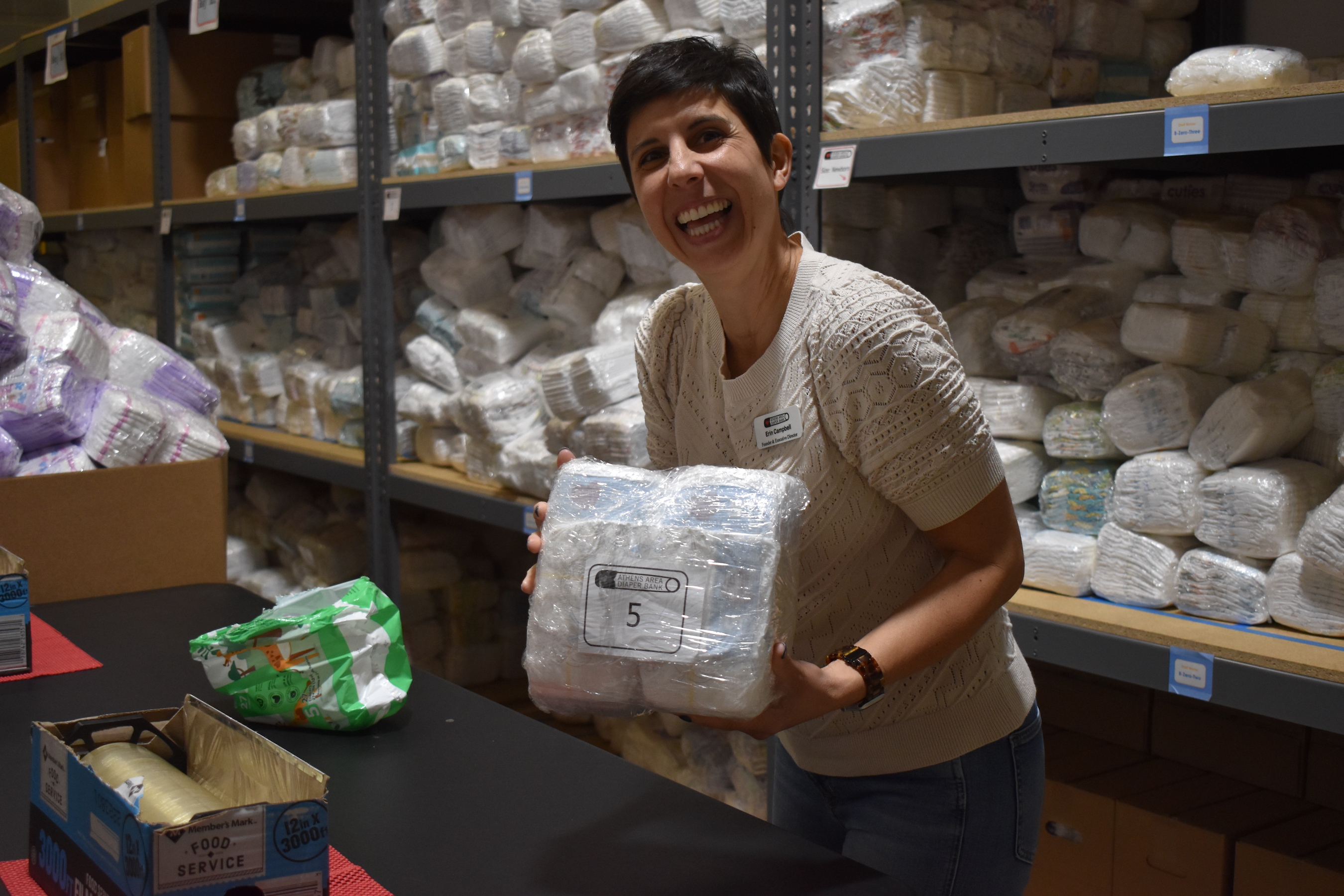 Erin Campbell holds a freshly hand-wrapped pack of 25 diapers on Nov. 14, 2022. The Athens Area Diaper Bank collects and distributes hundreds of thousands of diapers to thousands of children each year. (Photo/ Phoebe Lyons)
Erin Campbell stands at the side of the black table in the center of the dimly-lit, chilly storage room at the Athens Area Diaper Bank. Two large, opened boxes of Saran Wrap sit on the table surrounded by several shelves stacked with hundreds of thousands of diapers hand-wrapped and ready to go to struggling families.
She drags out a long piece of the plastic wrap until it hangs off the edge of the table, leaving the piece still attached to the roll in the box. She then tears open a green pack of size five Parent's Choice Dry & Gentle baby diapers, quickly counting out 24 and stacking them vertically on top of the wrap in two piles, before grabbing another and placing it horizontally in the middle of the stacks. She wraps up the white diapers patterned with giraffes, making sure that each side is covered and no diaper is exposed. She's an expert, so this takes her less than a minute.
Campbell serves as the executive director and founder of the AADB. She started the AADB in October 2015, after reading about diaper need in a parenting magazine as she was nursing her second daughter. She discovered that no diaper bank existed in the Athens area.
What was once a much smaller organization operating out of Campbell's garage is now a successful diaper bank. In 2021, the bank distributed 314,584 diapers to 7,589 children in Athens-Clarke County and the surrounding five counties.
A 'microcosm' of poverty
One in three families in the United States struggle with diaper need, and there are over 8,000 children in the Athens area alone who are at risk of facing diaper need, according to the AADB.
Campbell says diaper need shows "a microcosm of what poverty is," meaning there are several issues that come with not having access to clean diapers. She said a lot of people see just the physical side of what the diaper bank does: providing clean diapers to families to prevent health issues such as diaper rash and urinary tract infections.
However, the effects of diaper need extend far beyond physical health problems. Countless studies have shown the links between diaper need and maternal mental health issues such as anxiety and depression.
The high cost of diapers and the inability to use food stamps to purchase them leaves several families with the choice of providing clean diapers or food for their child. And, if you can't provide diapers, then you can't send your child to daycare, meaning many parents then have to miss work.
'The biggest hurdle'
Although the diaper bank has substantially increased the number of diapers donated and families helped each year, Campbell said most people don't understand just how many mothers cannot afford diapers and what that means for them and their babies. This lack of awareness is despite alarming facts and statistics, as well as recent studies that prove some of the harmful effects that result from diaper need.
"The education and awareness component of it is probably the biggest hurdle because I feel like our mission … speaks for itself," Campbell said. "It's simple. It's not political, it's not controversial … everybody can get on board with helping families and helping babies. So really the issue is just, the challenge is that a lot of people don't know that it's a problem."
Campbell and the rest of the AADB members are working hard to increase awareness of diaper need. In 2022, they worked with Mayor Kelly Girtz and elected officials to officially proclaim Diaper Need Awareness Week from Sept. 24 to Oct. 2.
Collaborative coworkers
Campbell says that the bank is where it is today due to strong collaboration and communication with her three coworkers.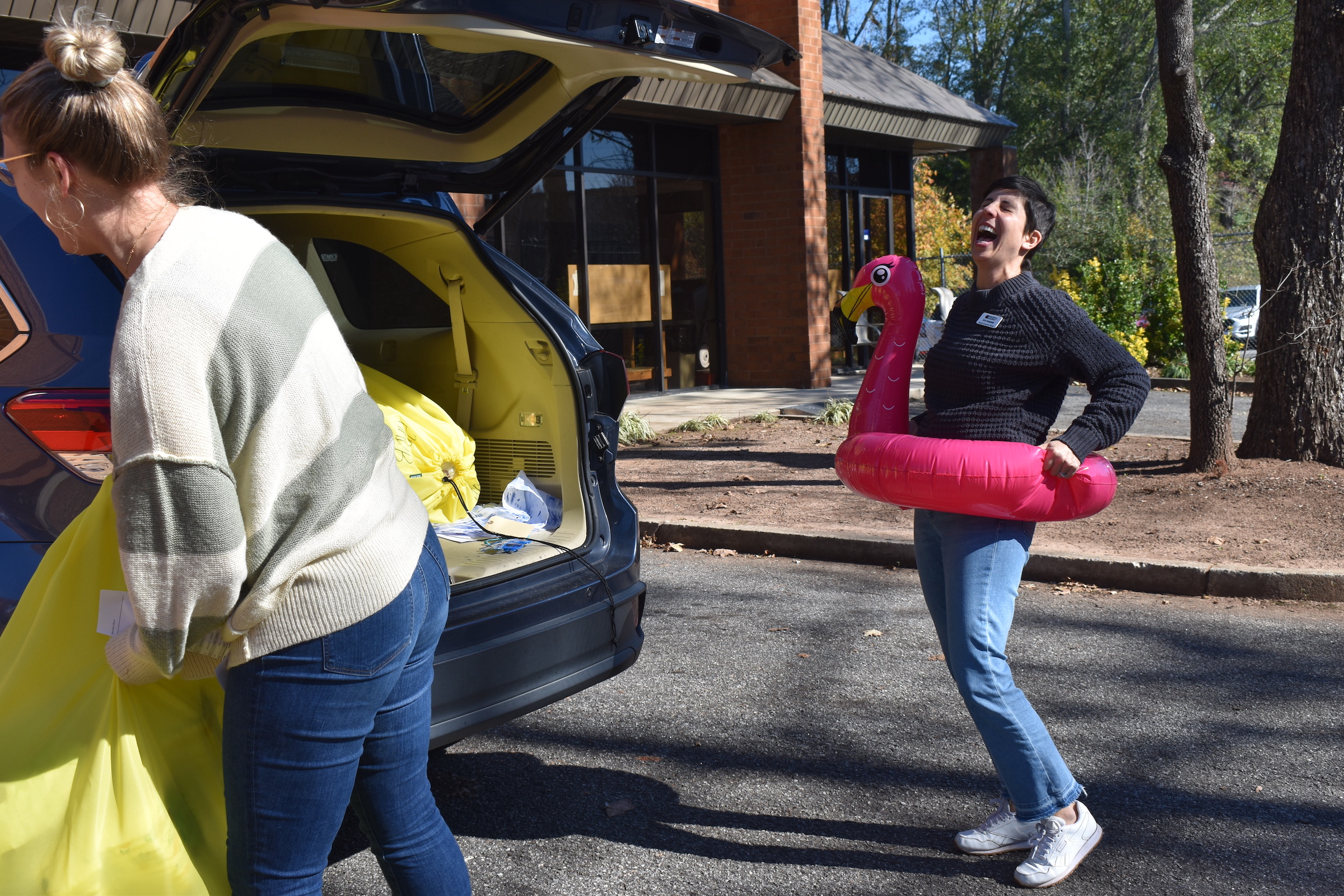 Campbell laughs and puts a flamingo floaty around her waist as she helps a member of the Athens Area Homeless Shelter load bags of diapers that they ordered on Nov. 18. (Photo/Phoebe Lyons)
Beth Staton, the AADB's operations manager and Special Programs Manager Kathy Bailey agree that Campbell's scientific background makes the diaper bank a positive work environment.
"I mean, at the root of my science background is just a natural curiosity," Campbell said. "I want to dig into why something works, why it doesn't work, how it can be fixed."
Staton also mentioned that Campbell's enthusiasm and passion are key assets she brings to the table.