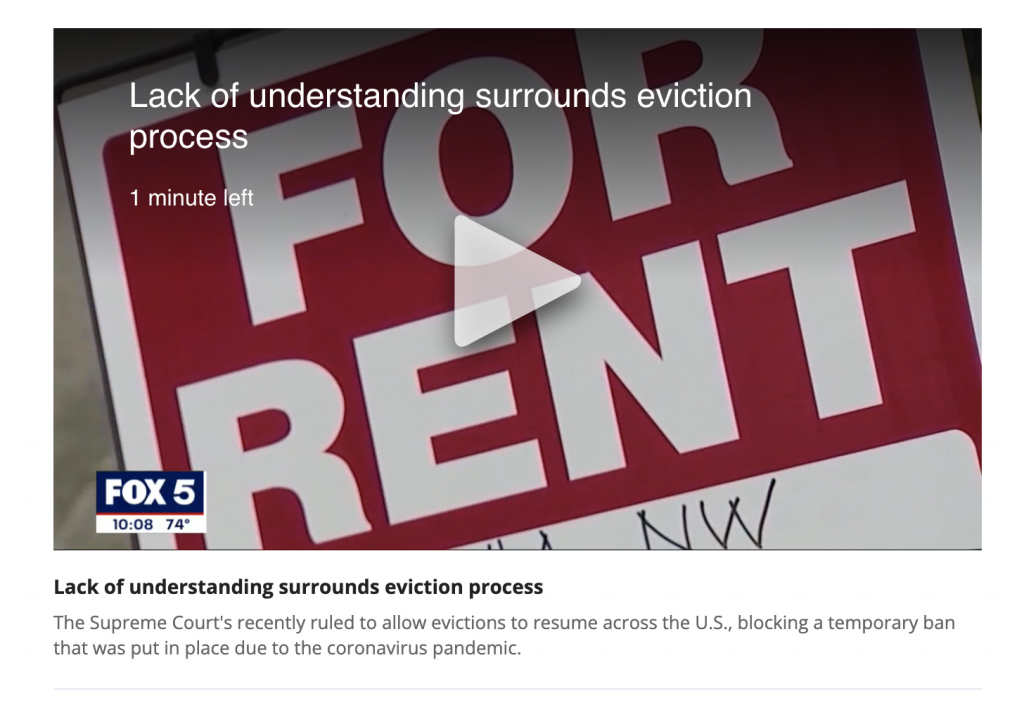 Covering evictions can be a challenge for reporters. Shelter is a basic human need, and an eviction is a traumatic event for individuals. There are multiple angles to cover this topic, from how difficult it is for people to recover from an eviction to how to explain the complex eviction process.
When Sean Keenan reported on the U.S. Supreme Court's rejection of the Biden administration's nationwide ban on evictions in August 2021 due to the financial turmoil caused by the COVID-19 pandemic, he wrote these words:
"For more than a year, Atlanta renters have dreaded the crash of what Terri Lee, the city's chief housing officer, called a 'tsunami' of evictions — a tidal wave of displacement in the wake of the COVID-19 pandemic.
Now, it seems that wave is cresting."
He wrote these words with such gravity because he knew that millions of people across the U.S. were suddenly at risk for eviction after the Supreme Court struck down the protections originally mandated due to the economic effects of the pandemic. Keenan reports on housing for the Atlanta Civic Circle, an online news platform that provides in-depth reporting on the most critical issues facing metro Atlanta.
Read the full story here: The "tsunami" approaches: With federal moratorium killed, Atlanta braces for crush of evictions
"I was just like, so many people are going to become homeless, and a lot of those people will die," Keenan said.
More than 8 million U.S. adults live in households that are behind on rent payments, according to the U.S. Census Bureau's Household Pulse Survey. Over 4 million Americans have no confidence that they won't be able to pay next month's rent.
"Housing is central to almost every aspect of your life. Where you live dictates where you can go to school, where you can get a job, the safety of your environment," Keenan said.
For more tips on covering housing, you can also check out our Housing Beat Guide.
Even after the Supreme Court rejected the nationwide ban on evictions, counties and states still were legally allowed to have an eviction ban. But with no federal mandate, some of those bans, such as the ones in DeKalb County and in California, expired in September 2021, putting hundreds of thousands of more renters at risk of eviction.
Housing and government reporters have useful tips to remember while reporting on evictions.
Hold government officials accountable.
Reporters can hold government officials accountable by asking questions about how government entities are working to prevent evictions, and exploring whether the government's actions match their promises in their reported stories.
Linked to the issue of ensuing evictions is states' slow distribution of money from emergency rental assistance programs, such as in DeKalb County, which only distributed a portion of the $21 million provided by the federal government for renters in need when the county's eviction moratorium expired.
After the Supreme Court decision came down, slow distribution made Keenan check in on what counties were doing to prevent evictions.
When Fulton County officials said that they were protecting evictions and they had their own rental assistance program to aid in this, Keenan asked whether the county would enact an eviction moratorium.
The county judge said that Fulton would not extend an eviction moratorium, even though at the time DeKalb had one in place. This proved that Fulton, in fact, was not doing everything in its power to prevent evictions.
"A lot of this job is putting fire to the feet of public officials," Keenan said. "All you can do is ask the questions."
At best, holding officials accountable affects change after they confront how their decisions are actively affecting at-risk citizens, and at the very least, this reporting can inform audiences about which officials are responsible for the issues at hand.
"Public officials can almost always do more to help people," Keenan said.
Also be sure to write how government actions — or inactions — to prevent evictions are affecting people at risk of eviction along with the accountability approach.
"Once you have an eviction on your record, it's 100 times harder to find another apartment or another house to rent," Tyler Estep, a reporter covering DeKalb County for The Atlanta Journal-Constitution, said. "So it's kind of a balancing act of doing that government accountability piece, but not losing sight of how it's affecting real people."
Read one of Tyler's stories on DeKalb's rental assistance here: DeKalb has now distributed $7.9 million in rental assistance funds
Utilize other sources besides those being evicted.
It can often be difficult to speak with renters who are at-risk for eviction, as often talking with a reporter when they're facing homelessness is the last thing on their mind.
Through collaboration with the Poynter Institute, Street Sense Media has created a guide for covering the homelessness crisis. 
Estep recommends developing relationships with local nonprofits, housing advocates and homeless shelters.
"A lot of times, those are the trusted people in the community," Estep said. They can either speak on their perspective on the housing crisis as a community leader, or connect reporters with people affected by eviction.
Janice Yu, a reporter at Fox 5 Atlanta, said reporters can explore what those at risk of being evicted are experiencing, but can also look at the issue through the perspective of landlords, realtors, eviction attorneys and more.
"There's going to be stories for days because you can tell it from the tenants' angle, you can tell it from the landlord's angle," Yu said. "At the rate that they're coming in, there will be more evictions that are served, so how many can these law enforcement officers handle in a day? Another thing is, how long is it going to take for these people to get kicked out of their homes? There are so many other arms of the story that you can get that might not be what everyone else is doing."
Understand the reality of the people who are most affected by evictions.
During the reporting process and the production process, work to understand what people affected by evictions are actually experiencing, including renters and landlords. This process can sometimes lead to a service journalism approach.
"At the end of the day, you have to think about how what you're producing is impacting and who it's about," Keenan said.
To better understand what people at risk of eviction had to go through in order to receive federal rental assistance, Keenan filled out the complicated paperwork required for receiving rental assistance in Georgia. Georgia differs from some other states, like Texas, where only a legal attestation is required to receive relief funds.
"They required all of this paperwork, and especially for those affected by poverty, or old people who don't have technical skills, or people who just don't have access to computers or cell phones, it was incredibly difficult to even apply for it," Keenan said.
This process allowed him to better understand the barriers to access to receive federal funding.
Keenan also received emails from people who were at risk for eviction or who applied for assistance asking for his advice. While he can't help in every case, there have been a few instances where he's been able to get responses to people's questions from his connections in local governments. This fits in, too, with Atlanta Civic Circle's solution journalism approach as it ramps up outreach to affected communities.
Yu also recommends becoming familiar with the process that leads to an eviction and what happens after an eviction notice is issued. When she reported on the Supreme Court decision in August 2021, she learned that many tenants facing eviction are unaware of the steps they need to take when an eviction notice is issued. She reported a story about what people need to do if they receive an eviction notice.
"As a journalist covering these topics, it's good to know the background," Yu said. "And maybe the background becomes your story."
Read the digital story here: Many tenants facing eviction taken by surprise due to limited understanding of the process
Maintaining a human connection to what people at risk of eviction might be experiencing and having empathy can ensure sensitive and ethical coverage.
"You have to talk to real people differently than you would to some county commissioner that you're trying to hold accountable for a vote on some issue," Estep said. "It's a different tone, and you have to remember that you're a human, too. Sometimes journalists try to separate themselves from the story, but at some point, you have to maintain that human connection with them."
Kyra Posey is a graduate student studying journalism at the University of Georgia.