Read how Janelle Ward reported this story for The Athens Banner-Herald/OnlineAthens.com: Where to Find COVID-19 Vaccines in East Athens.
With such a significant percentage of Athens-Clarke County not vaccinated toward the beginning of the academic year, a service journalism piece with vaccine locations in East Athens and other important information was much needed. East Athens is a community heavily consisting of marginalized people of color who normally lack access to resources available in wealthier communities.
The Covering Poverty site, particularly the health care beat guide, offered helpful tips on how to report the story. The guide contains descriptive questions that helped me brainstorm and determine the direction I wanted to pursue with the piece.
I used a map to locate pharmacies and clinics in the East Athens area, double checking my research using the full list of coronavirus vaccine distribution locations on the Athens-Clarke County website. I visited the website of each location I included in the piece to gather details on the vaccination process, including whether appointments were required and whether minors needed an adult present during the vaccination.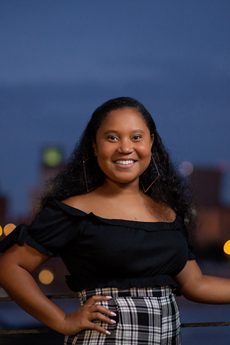 Given what I've learned so far about covering poverty, the information explaining why this story was necessary was probably the most important. I used data from Justice Map to show the negative correlation between the percentage of residents of color and annual income in East Athens.
Janelle Ward is a senior at the University of Georgia.