Photojournalists covering poverty face a specific set of challenges and responsibilities. Use these seven tips from photojournalists to focus on the ethics behind your images.
Recognize power dynamics
Photographers' tools hold gravity and power. To use these tools well and use them in ways that serve the communities you work in, it is important to acknowledge the power and privilege inherent in showing up with a camera.
Photographers need to acknowledge the fact that in many settings covering the topic of poverty, cameras can make people feel uncomfortable or degraded.
Even if photojournalists have no intention of making a photo that would cast someone in a bad light, a power dynamic exists that puts you in charge of that decision, not the people on the other side of your lens.
You decide what the outside world sees of personal lives. That is an enormous amount of power, and it needs to be held delicately.
Independent photojournalist Danielle Villasana suggests leading with the person and making sure that you're telling the story that they want to tell.
"Make sure that you're not making any assumptions about who they are, what they go through or what they face," she said.
Listen to Villasana, whose images have appeared in National Geographic, discuss the importance of covering poverty as photojournalists, stereotypes to avoid, and the work of visual journalists that she admires.
Photographers must realize that the effect of images is separate from the intentions while making and publishing them. It does not matter if you personally extend dignity and respect to every person you photograph; if the published photos feed into stereotypes or fail to honor the people living inside your frames, that is all the world will see.
Photographers cannot control the culture they live in or that there is a stigma around needing assistance with food, housing or clothing. They can, however, control the images they make and share of people living in these situations.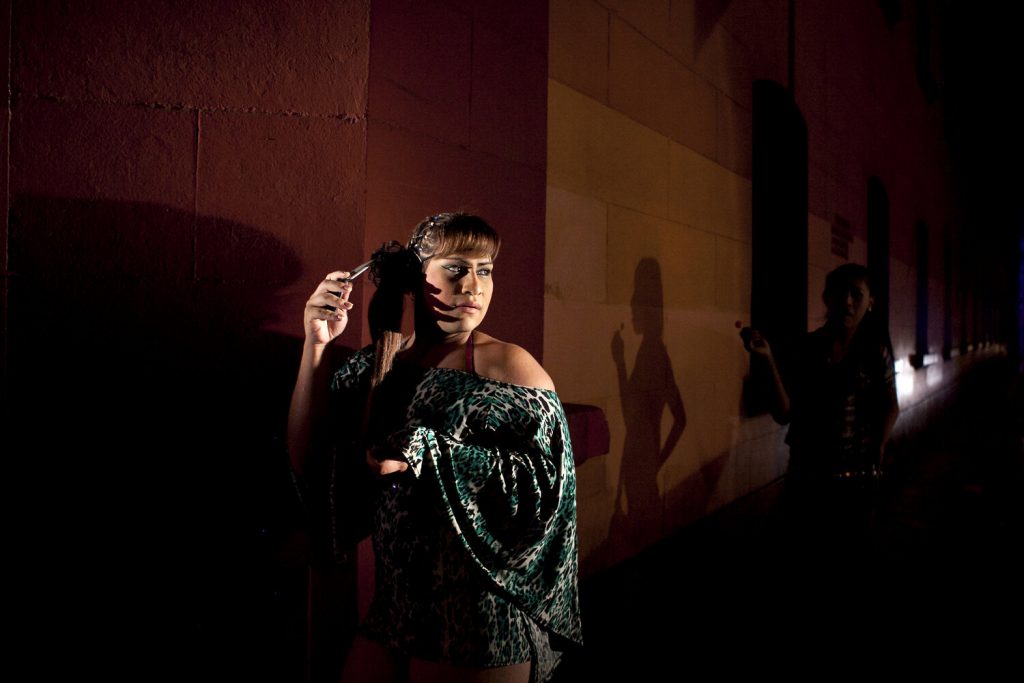 Asumi, left, and Oriana, right, stand in the light of a police car during a nightly patrol in Lima, Peru. (Photo courtesy of Danielle Villasana)
Tell the whole story
"Oftentimes in photojournalism, especially when we're focusing on human rights issues, I believe there is a tendency to focus on only one side of the story, which is oftentimes the most urgent or pressing aspect of an issue, but I strive to tell the whole story so it's a more balanced narrative and representation of that person. I feel that when stories are told narrowly or only focus on one aspect of the issue, then we run the risk of upholding and maintaining stereotypes," Villasana said.
When possible, Villasana takes a long-term approach to documentary photojournalism that allows her to fully understand and present complex stories.
New York Times photojournalist Ryan Christopher Jones stressed in a 2020 interview that photojournalists are supposed to photograph reality, even when it is harsh. Photojournalists should not avoid making images of devastation, but they should question how they go about doing so.
"When suffering is coupled with exploitation, those who are photographed are never allowed to live outside of the pain they're in, because those photos turn a single behavior into an identity that exists in perpetuity," Jones wrote.
Instead of creating a shock-value image that exploits the humans inside our frames, photographers must work to humanize those affected. They need to employ the patience needed to capture connection, relationships and resilience, even among suffering.
"It is difficult to make sensitive stories, and journalists cannot create redemption. But we can find where it lives and make it louder," Jones wrote in a 2018 opinion piece.
Branch out
Look at the coverage that exists and ask questions about it. What is missing from the current body of work? Do you see the humanity of those affected by these issues or just their pain?
Villasana identified one of the goals of her work as "challenging people's perceptions or misconceptions of issues, people and places."
Often, the suffering of minority communities is visible and more accessible for journalists, which leads to images of these communities being attached to issues of poverty or suffering. Investigate the places and people these issues affect, especially those that have not been covered in depth before. If you need direction in this area, talk with editors who have knowledge of the community.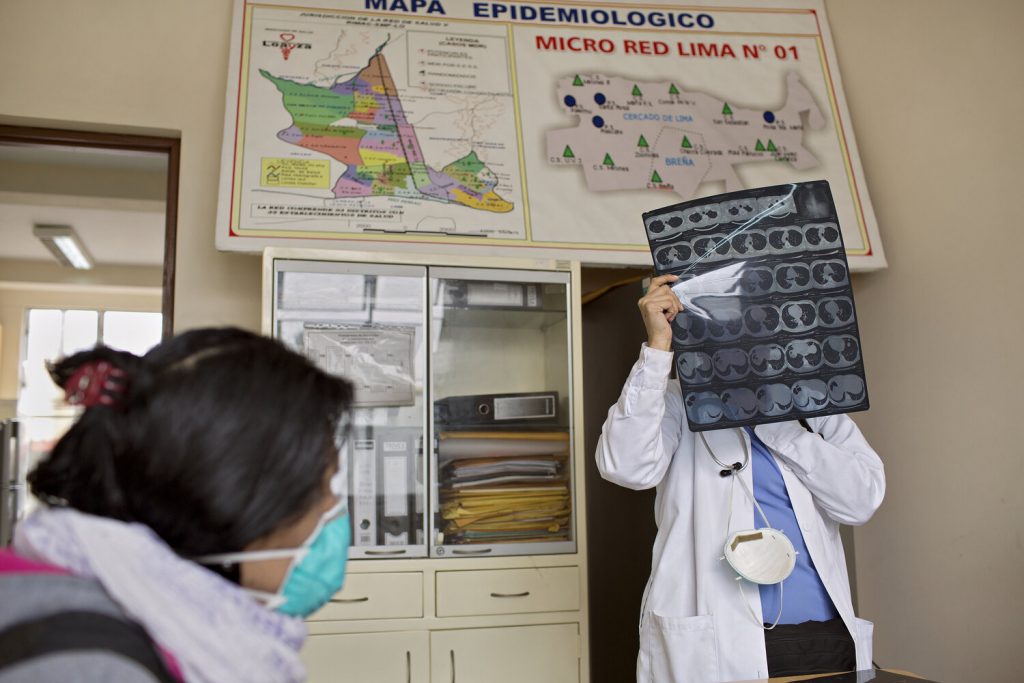 Shortly after getting on HIV medication, Tamara is diagnosed with Tuberculosis. Here, a doctor examines a CT scan of her lungs. (Photo courtesy of Danielle Villasana)
Practice transparency
Be transparent when you approach people about a photo story on a sensitive topic. Explain the story topic and angle so that sources can determine if they are comfortable being included in the story. Be clear about what you need from them, how much time you expect it to take and what you're doing to protect them. These steps show respect for sources.
"Transparency and communication are always key," Villasana explained. "I'm very upfront about what consent actually means."
When Villasana approaches a potential source for a photo story, she thoroughly explains who she is, what she is doing, where the photos could end up and the possibility of the photos never making it into print. In an effort to provide potential sources with the information needed to consent, Villasana explains the full scope of possibilities, such as images being on display in an exhibit, part of a published book or on the side of a building.
Transparency is an important aspect of communicating to people that you will not exploit them, their pain or their loss.
Broken down, this means finding people who want their story to be told, explaining why their story matters to the public, acting with sensitivity to the situation, and explaining that you are safe. During the COVID-19 pandemic, the safety piece meant sharing precautions you are taking to ensure the safety of sources and respecting additional boundaries each individual may have.
Listen to Villasana discuss evaluating your role and authority as a photographer and storyteller, as well as the importance increasing the diversity of our newsrooms and photojournalism staff, and read the Photo Bill of Rights, an ethical code published in June 2020 as a call to action to "assert the rights of all lens-based workers and define actions that build a safer, healthier, more inclusive, and transparent industry."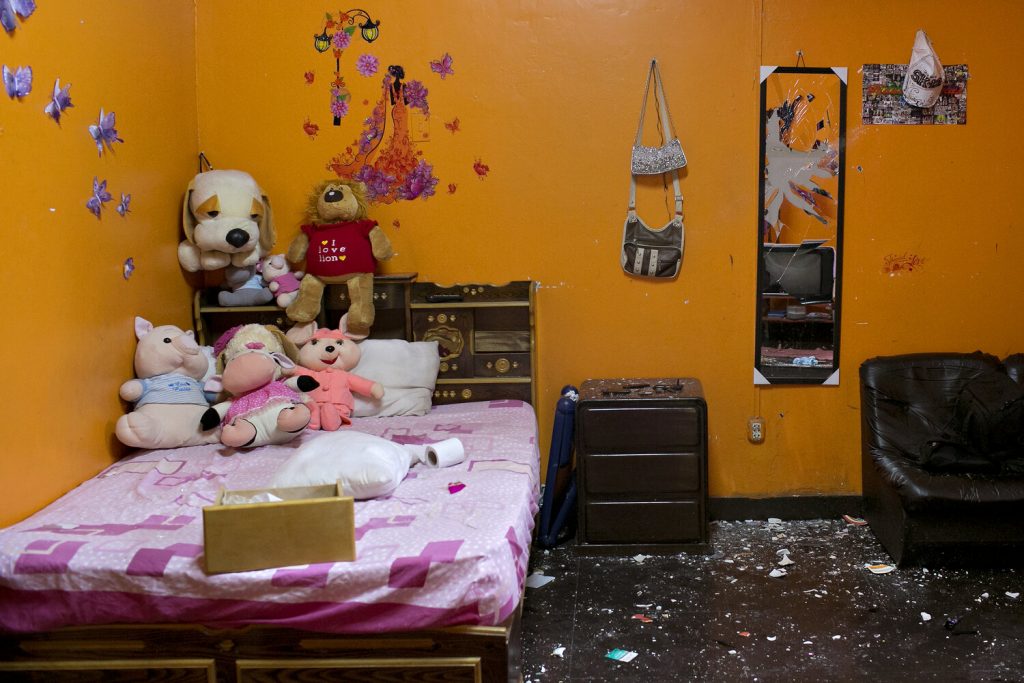 Briss's room is left in shambles after a fight with her boyfriend, who punched the mirrors and threw furniture. Eighty percent of homicides of trans people worldwide occur in Latin America. (Photo courtesy of Danielle Villasana)
Engage with humans, not props
Jones stressed the importance of "photographing people as people first and not as props to a story."
In every stage of a story — in pitching, planning, researching, sourcing, photographing, captioning and editing — photographers should engage with people, and their images should show that.
Photograph, plan and edit with intentionality and sensitivity, thinking toward how the end product will affect the public at large and the specific individuals in each frame.
Edit wisely
Marie de Jesús, a staff photographer with the Houston Chronicle, said documentary photojournalists must be intentional.
"Documentary photography has to be a conscientious exercise every single time," de Jesús said.
You can make great photos that are sharp and perfectly composed. But if a photo is not helpful in telling the specific context of the story and pushing the conversation forward, it doesn't make the cut. If the photo feeds into stereotypes, it doesn't make the cut. If the image just shows off your photography skills, how great our access was or the advanced equipment you used, it doesn't make the cut.
Compassionate, humanizing documentary photojournalism is about putting the story and those in it above any personal desire to showcase your access or skill as a photographer.
Be where your lens is
"A big part of my process is simply going up to people and talking to them," Villasana explained, using her nearly decade-long project working with transgender women in Latin America as an example.
Don't rush this. Get to know the people that form the pixels on your camera screens. Walk the neighborhoods; meet community leaders; ask people what stories are important here and now.
If nothing else, this will get people accustomed to seeing your cameras. It will allow sources time to trust you and trust that you will use those powerful tools with integrity and sensitivity.
"Trust and communication are aspects of a relationship that should be continuously revisited and built on," Villasana said. "It's not something that you gain once and then you're done. It's something that's continuously gained over and over again."
Taylor Gerlach is a fourth year majoring in journalism and sociology at the University of Georgia.