On Reporting on Poverty
READING
"How Photography Exploits the Vulnerable"
Ryan Christopher Jones, a photographer with The New York Times, discusses in a 2018 op-ed how photojournalists should balance the "responsibility to portray the visceral realities of an often devastating world" and the simultaneous responsibility to photograph with respect to the humanity of the people photographers cover.
"Covering poverty: What to avoid and how to get it right"
A guide compiled by Denise-Marie Ordway and Heather Bryant, two journalists who grew up in poverty themselves, outlines common mistakes journalists make when covering poverty and related issues and offers ways to avoid committing those problematic reporting practices.
"Reporting Inequality"
Sally Lehrman and Venise Wagner's guide aims to equip journalists to cover the complex issues surrounding racial and social inequalities. This book provides straightforward, practical strategies for reporters to use in the field to investigate the root causes of inequality and report more comprehensively. Read our interview with the authors.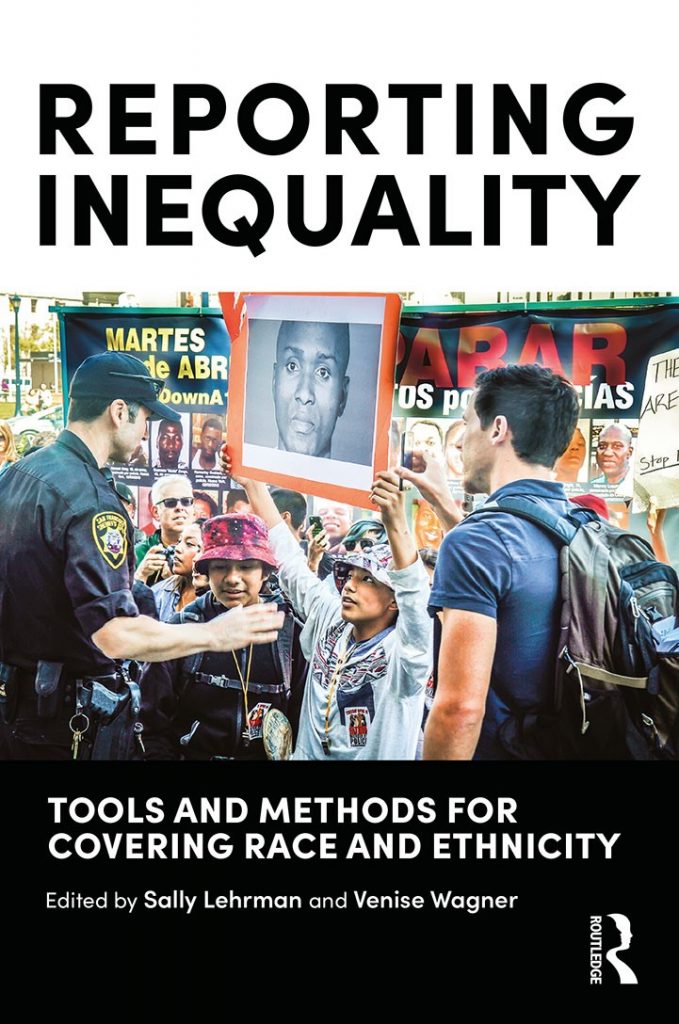 "A journalist's guide to reporting on homelessness"
This guide, created by Street Sense Media in collaboration with the Poynter Institute, gives journalists the tools and techniques they need to cover homelessness. The guide is broken down into categories with tips on how to cover homelessness in the correct and ethical manner. 
LISTENING
"Breaking News Consumer's Handbook: Poverty in America Edition"

In this podcast, journalists Bob Garfield and Brooke Gladstone talk about how they covered poverty in the preceding episodes of the series and walk through various pitfalls to avoid. Authors and other experts are interviewed to provide alternatives to avoid these insensitive or incorrect mistakes.
ON POVERTY AS A TOPIC
VIEWING
"Why Poverty?"
This PBS Peabody Award-winning documentary series explores global, international poverty. Eight full-length documentaries and several shorter episodes look for answers to questions like "can a good education provide an escape from poverty?" and "how have attitudes to poverty changed over the ages?"
"Four Reasons To Include Race in America's Poverty Discussion"
In a video presentation by Alan Jenkins and written discussion by Katie Le Dain, The Aspen Institute provides context to the links between race and poverty in the U.S. Common misconceptions are brought to light and presenters introduce reasons for why conversations around poverty should not shy away from race.
"Growing Up Poor in America"
PBS Frontline's 2020 documentary follows three children and their families to share their experiences fighting to stay afloat as the COVID-19 pandemic amplifies existing challenges. In the political battleground state of Ohio during a pivotal presidential election year, hopes and fears for the future are shared from a child's perspective.
LISTENING
"View from Room 205"
This 2017 radio series from WBEZ in Chicago includes illustrations, photographs and long-form written stories, organized into chapters. The piece as a whole investigates whether public schools can make the American Dream a reality for children who live in poverty. The story focuses on 30 fourth graders and their intimate experience with the intersection of poverty and education on Chicago's West Side.
"Toxic Stress – Poverty and Health"
On Latino USA's podcast, Daisy Rosario speaks with doctors and researchers about how excess levels of stress, often due to experiences related to poverty, can change brain psychology and affect life course trajectory.
READING
"In Plain Sight"
NBC News' Peabody award winning series investigates a diverse range of content related to trends and impacts of poverty across the U.S. Each story dives into a particular newsworthy policy or aspect that relates to poverty and covers that in detail.
"$2.00 a Day: Living on Almost Nothing in America"
This narrative by researchers H. Luke Shaefer and Kathryn Edin follows several U.S. families who live in extreme poverty and investigates how they survive on less than $2 per day, and readers are transported into the everyday lives of each family. The 2016 narrative novel is a product of years of ethnographic research learning how these families reached an extreme level of poverty and the survival strategies they have adapted, including a discussion of policies that impact their specific situations.
"Understanding Poverty"
Composed of essays compiled by Abhijit Vinayak Banerjee, Roland Benabou and Dilip Mookherjee from 34 leading economists focused on the most valuable key points from their research on poverty, this 2016 collection covers a large range of relevant topics. Some essay topics include the empirical measurement of poverty, the impact of colonialism on enduring contemporary poverty, the future of micro-credit, child labor and gaps for future research.
"The Working Poor: Invisible in America"
In his narrative, David Shipler, a former New York Times reporter and Pulitzer Prize winner, presents personal stories of working people living in poverty. Combined with statistics, these accounts identify and describe interconnected obstacles to climbing the socioeconomic ladder.
"Nickel and Dimed"
Barbara Ehrenreich's narrative describes her time as an undercover journalist working minimum-wage jobs around the U.S. while on a mission to determine if landing a job is truly a surefire way to prosperity.
"Evicted"
This Pulitzer Prize winning narrative follows eight families in Milwaukee as they fight to keep consistent housing. Author Matthew Desmond provides an in-depth look at poverty and economic exploitation alongside scenes of hope and ideas for solving these deeply rooted issues.
"Heartland"
Sarah Smarsh's memoir of her childhood growing up as a fifth generation Kansas wheat farmer brings insight into life for working class Americans in the midwest. Through personal narrative from her own memories and impactful analysis and cultural commentary, Smarch investigates the class divide in the U.S.
"The Color of Money: Black Banks and the Racial Wealth Gap"
Mehrsa Baradaran's 2017 nonfiction work explores the persistence of the racial wealth gap in the United States and provides insight into Black banks. Baradaran presents research that shows how institutions like housing segregation, racism and Jim Crow credit policies that prevent Black communities from accumulating wealth in a segregated economy.
Taylor Gerlach is a fourth year majoring in journalism and sociology at the University of Georgia.