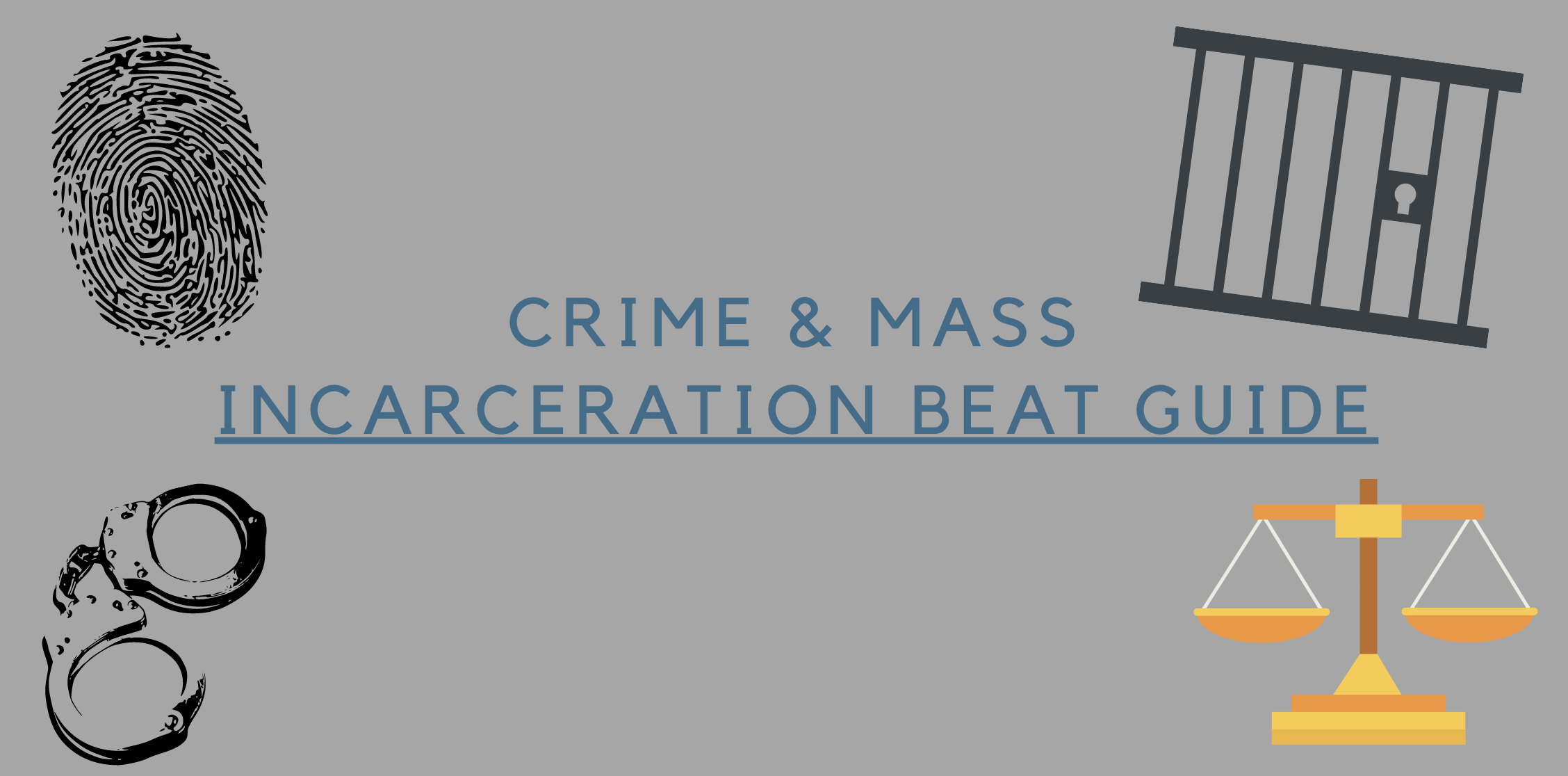 Why cover crime and mass incarceration?
There is a cycle in which crime can cause poverty and poverty can cause crime, and it is important to flesh out that correlation or cycle.
People living in poverty are also vulnerable and victims of crime and mass incarceration, and it is important to tell their stories accurately.
Research guide
Here's a list of databases, studies, conferences and institutions, with information to help you form the right questions in your community.
If you're feeling stuck, use the resources below to help answer these questions. They might help you get started on a story or expand on an idea about poverty in your county.
What does the crime rate look like in your region?
What is the incarceration rate in your region?
What are the biggest offenses in your region?
What is the poverty rate in your region?
What percentage of families in your region live below the poverty line?
What is the unemployment rate?
Datasets & databases
The Annual Social and Economic (ASEC) Supplement
This data will bring insight to journalists about data on the monthly labor force, work experience, income, noncash benefits and migration. This will be important for background data to help journalists become more knowledgeable on poverty and trends.
Crime & Justice Electronic Data Spreadsheets
This database looks at aggregated data from published sources including crime, justice and sociodemographic variables. This is important for journalists exploring crime and mass incarceration statistics and trends.
Data for: Income Inequality and Violent Crime: Evidence from Mexico's Drug War
This dataset looks at the effect of income inequality on violent crime. This will be important for journalists who want to examine the effects of crime, while using a case study of Mexico's drug war to explain the data.
Academic papers and relevant studies
Crime, Poverty and Police Corruption in Developing Countries (2008)
In this publication, journalists will find information related to police corruption and how it is linked to processes of development, such as crime, violence and poverty. The main purpose is to "explore and clarify the relations between police corruption and the more fundamental welfare-shaping processes in poor and semi-poor countries," researchers Jens Chr. Andvig and Odd-Helge Fjeldstad say in the paper. This publication will be useful for journalists covering poverty in developing countries especially.
Does Poverty Lead to Crime? Evidence from the United States of America (2018)
This publication examines U.S. data from 1965 to 2016 to identify the effect of poverty on crime. The authors, Mohammed Imran, Mosharrof Hosen, Mohammad Ashraful Ferdous Chowdhury, find a positive co-integrating relationship between poverty and property crime. This publication and findings will be useful for journalists looking for the relationship between poverty and crime rates in America.
Household Poverty and Nonfatal Violent Victimization (2014)
This publication by the Bureau of Justice Statistics examines the "violent victimization experiences of persons living in households at various levels of poverty, focusing on type of violence, victim's race or Hispanic origin, and location of residence." It will be useful for journalists looking for information on rates of crime on those in lower income households.
Family Income Inequalities and Trajectories Through Childhood and Self-harm and Violence in Young Adults: A Population-based, Nested Case-control Study (2018)
Journalists will find this study useful for examining the effects of income inequalities with violent criminality in young adulthood. This study looks at "parental income trajectories during childhood and subsequent risks of self-harm and violent criminality in young adulthood." The study found "the longer a child lived in poorer circumstances, the higher their subsequent risks for self-harm and violent criminality, and vice versa for time spent living in affluent conditions."
Institutions
The Poverty, Violence, and Governance Lab at Stanford University is a laboratory that partners with "policy-makers and community leaders to evaluate programs and policies aimed at containing violence and crime, reducing human rights abuses by law enforcement agents, and improving the quality and accountability of the police and criminal justice systems." Journalists will find their research aimed at providing solutions to lawlessness and violence useful for reporting, as well as their evaluations of current programs and policies.
Innovations for Poverty Action is a research and policy nonprofit that "discovers and promotes effective solutions to global problems." Their aim is to improve the lives of people living in poverty, and they conduct research related to poverty in various countries, crime, health, etc.
Annual Conferences
The World Bank Group is a global partnership between five institutions, whose mission is to end extreme poverty and to promote shared prosperity. The group has annual conferences on land and poverty. The 21st Annual World Bank Conference on Land and Poverty "Institutions for Equity and Resilience" was postponed due to COVID-19.
The Stanford Center of Poverty & Inequality is a center "committed to providing research, policy analysis, and training on issues of poverty and inequality." The Center sponsors or cosponsors conferences related to issues of poverty and inequality.
The Institute for International Economic Policy at the Elliott School of International Affairs serves as a catalyst for "non-partisan research on policy issues surrounding economic globalization." The Institute hosts the Urbanization and Poverty Reduction Conference, in which academics and development practitioners discuss the topics of people, markets and cities.
---
Shania Shelton is a fourth year journalism major at the University of Georgia.