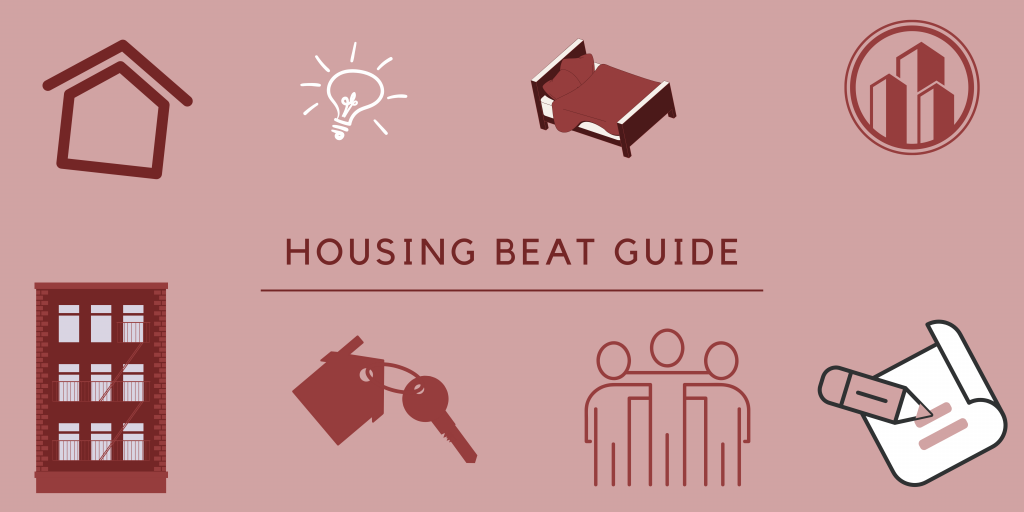 Why cover housing?
Housing covers a basic need required by everyone: shelter.
Housing indicates economic growth or the lack of it. It also serves as an engine for employment and industrial development.
The COVID-19 pandemic has increased the likelihood that individuals and families experience housing insecurity. While there have been federal moratoriums on evictions, the long lasting effects of the virus and growing rates of infection will exacerbate housing insecurity.
While foreclosures have reached record lows nationally since the housing crisis in 2008, states such as Tennessee, Idaho and Indiana, as well as metropolitan areas in Oregon and Alabama, for example, have seen steady levels of foreclosures.
Rising unemployment rates and economic insecurity paired with waning unemployment benefits amid COVID-19 may increase the number of middle-class workers who slip into poverty, increasing the likelihood of housing insecurity.
Low-quality housing affects children. According to many long term psychological and economic studies, children born into impoverished homes are likely to become part of the cycle of poverty.
Research guide
Here's a list of databases, studies and institutions, with information to help you form the right questions about poverty and housing in your community. 
Still wondering why housing reporting matters? Listen to a podcast episode with housing reporter Sean Keenan on why covering this topic is essential.
Aren't finding what you need? Check out our list of essential studies, data and tools.  If you're focusing on covering evictions, check out our story on How to Cover Evictions.
If you're feeling stuck, use the resources below to help answer these questions. They might help you get started on a story or expand on an idea about housing and poverty in your county.
What percentage of families in your county live below the poverty line?
What is the unemployment rate?
What is the poverty rate in your county?
What are the average rent and housing costs in your county?
What is the median annual household income in your county?
What is the foreclosure rate in your county?
What is the homeownership rate in your county?
What percentage of people in your community experience housing hardships?
Databases
A part of the U.S. Census Bureau, the American Community Survey collects nationwide data every year on the social, economic, and housing characteristics. Data can be narrowed down by year, state and county including narrative and data profiles.
Another U.S. Census Bureau outlet, the American Housing Survey landing page provides access to annual housing surveys which follow the same housing units over time.
Historical Census Data from the Governor's Office of Planning and Budget
While providing historical demographic data for Georgia counties dating back to 1900, there's also data about housing characteristics from 2000 including homes built by decade.
Housing Vacancies and Homeownership
Out of the U.S. Census Bureau, this collection of data focuses on rental and homeowner vacancies, acting as both economic indicators and sources for decisions on new housing developments. Data can be distinguished by age, race/ethnicity, and family income.
National Housing Preservation Database
A partnership between the Public and Affordable Housing Research Corporation and the National Low Income Housing Coalition. Includes annual reports on affordable housing access, a mapping tool showing affordable housing near you, and data on funding and subsidies for affordable housing.
Requires a subscription for detailed information. However, even without a membership, one can search foreclosures by city, state and ZIP code.
U.S. Department of Housing and Urban Development
An outlet for federally-collected data including county level summaries of housing problems of low income households, public housing inspection scores, and environmental impact surveys of housing developments.
Academic papers and relevant studies
Centers for Disease Control and Prevention: Healthy Housing Reference Manual
Updated and revised in 2006, this manual pulls from 1970 and 1980 ideas referencing "basic principles of healthy housing," water quality, energy efficiency, and indoor air pollutants. Provides good historical context from a federal perspective.
Center on Budget and Policy Priorities: Rental Assistance Reduces Hardship and Provides Platform to Expand Opportunity for Low-Income Families:
An analysis of federal data that summarizes the effects of federal assistance on low-income households, and how a lack thereof can exacerbate homelessness, instability, and crowding.
National Bureau of Economic Research: The Effect of Foreclosures on Homeowners, Tenants, and Landlords
Published in 2020, this study analyzes the social and economic costs of foreclosures in Cooke County, Illinois. Though specific to one location, findings and ideas can be applied to other areas.
Office of Policy Development and Research: Biannual "Worst Case Housing Needs" report
Provides national data and analysis of critical housing problems facing the low income population. This report is submitted to Congress every two years.
University of Georgia: Retailer Redlining and Demographics Study
A deep-dive into how different types of retail — specifically dollar stores and similar shopping experiences — can indicate the presence of low-income populations and shape neighborhood profiles.
Institutions
Institute for Children, Poverty & Homelessness
Based in New York, resources emphasize information on homeless families and children, including students. The website provides infographics and data compilation in digestible formats.
Institute for Research on Poverty
Out of the University of Wisconsin-Madison, a federally funded research center for national poverty in the U.S. Under research areas are collections of studies and research regarding housing, place, inequality and mobility, employment and economic support from social scientists in a variety of disciplines.
Joint Center for Housing Studies
Out of Harvard University, this institution has links to research, events, and interactive data focussing on housing issues and policy. They also release an annual report on "The State of the Nation's Housing" which can be found online.
Justia is a company that gives free access to legal advice and information through its legal platform. This page gives a comprehensive look at eviction, moratorium, and foreclosure policies in different states specifically regarding COVID-19 relief.
Has compiled housing resources specifically regarding COVID-19, including news articles and state reports. Hosts events with housing experts focussed on solutions to affordable housing, and links to its virtual conferences.
National Low Income Housing Coalition
A coalition focussed on achieving social equity through policy work and advocacy. Includes analysis of housing needs by state, annual reports, and events/webinars with housing experts.
---
Sofia Gratas graduated in fall 2020 with a journalism degree from the University of Georgia.